What is it about coffee? We drink 95 Million cups of the black stuff each day in the UK and many of those drops will be drunk either on our way to work, at work, at meetings, dashing to a meeting or even just to help us stay awake during a meeting!
It's UK Coffee Week (29th April to 5th May 2019) - a charitable fundraising week where coffee shops and coffee lovers across the UK come together to support the communities which grow our coffee which we guzzle. This year, UK Coffee Week is supporting Project Waterfall - find out more.
To coincide with our love of coffee, Burtt-Jones & Brewer recently held a breakfast meeting focused entirely on coffee and its role in the workplace.
This was the second instalment in a series of events we launched earlier in the year, where over a cuppa and breakfast, we aim to share and debate the wonders of the often mysterious 'world of the workplace'. And coffee is indeed a hot topic in the world of work right now.
From the very first coffee houses in the UK, established in 1650, coffee has become part of our social DNA, the formative lubricant of meetings and conversations. Is the rise of agile, mobile and knowledge linked to the principle of bringing the coffee shop into the office? As every organisation struggles to enable and promote cross-team collaboration, sharing of ideas and knowledge - does coffee have a historic relationship with the workplace?

Coffee houses started to pop up in London in the mid 1600's and quickly became known as centres of commerce and places to conduct business. Taverns had a reputation as rowdy places for drinking and gambling, but coffee houses were respectable establishments where men conducted their daily affairs. Theologians and scholars would gather at one, stock brokers at another and sea-faring merchants at another.
Some notable coffee houses from the 1600s include:
Edward Lloyd's coffee house on Tower Street in London, which was a gathering place for mariners and insurers. It later became Lloyd's of London

Jonathan's coffee house in London, which was the first site of the London Stock Exchange

The Tontine Coffee House in New York, which was the first site of the New York Stock Exchange
So coffee has a clear link with not just the office and the workplace, but also with the broader aspects of collaboration, philosophy, creativity and inspiration. With a 350 year history, the 'coffee conversation' is clearly not a new idea.
Equally, the physiological impact of coffee should not be underestimated:
"The association between caffeine consumption and an increase in alertness and performance has been well documented. The European Food Safety Authority (EFSA) has concluded that a cause and effect relationship has been established between a 75mg serving of caffeine – the amount found in approximately one regular cup of coffee – and both increased attention (concentration) and alertness."
When considering the mental performance of your colleagues and what physiological effects an aroma can have, some studies have suggested that especially the aroma of coffee may have an impact on feelings of alertness. Some research also suggests that aroma can trigger emotions and evoke memories.

Coffee, then, "provides a multi-sensory experience that may be influenced not only by the type of coffee, preparation method and any additions such as milk or cream, but also by the drinking vessel".
Can we relate the process of coffee making to the design process?
It's not exactly 'ground' breaking news that the coffee shop vibe is 'filtering' into the workplace (no puns intended) as a result of its historic impact and scientific qualities. But what is new is that coffee has become a more considered choice - there is little instant coffee around, just like there is no instant design. We take care in choosing our beans, preparation method, coffee cup and coffee shop.
By making the right kinds of choices with our coffee, we get to drink the kind of cuppa we like - not just what's available by default. The same applies to design. Instant coffee isn't really coffee, and there is really no such thing as instant design. So, how does the process of coffee making relate to the design process?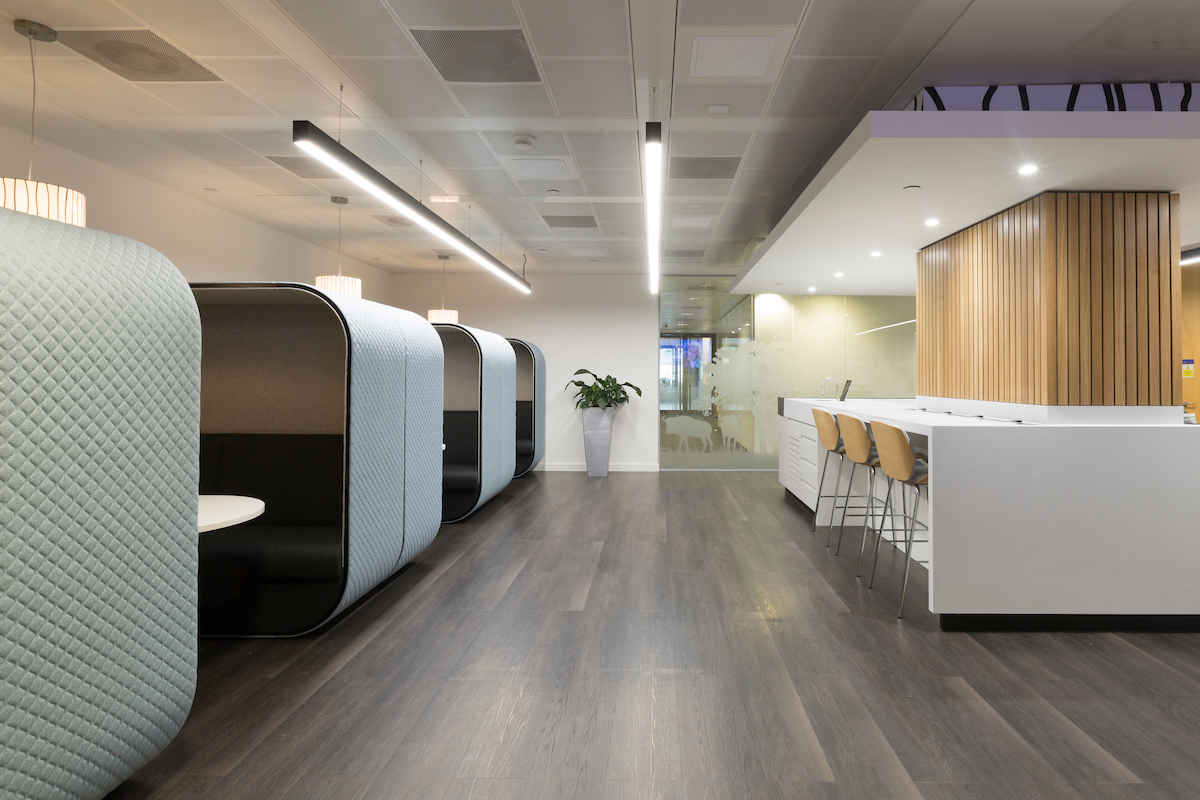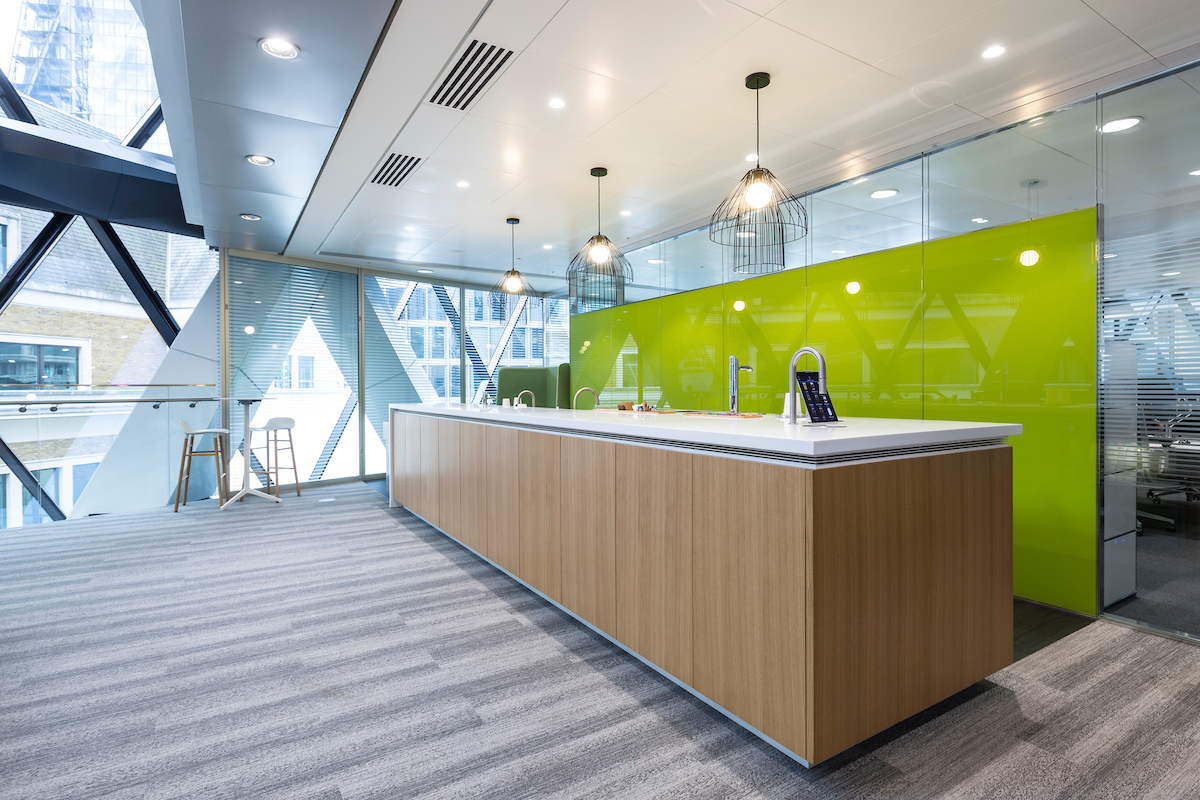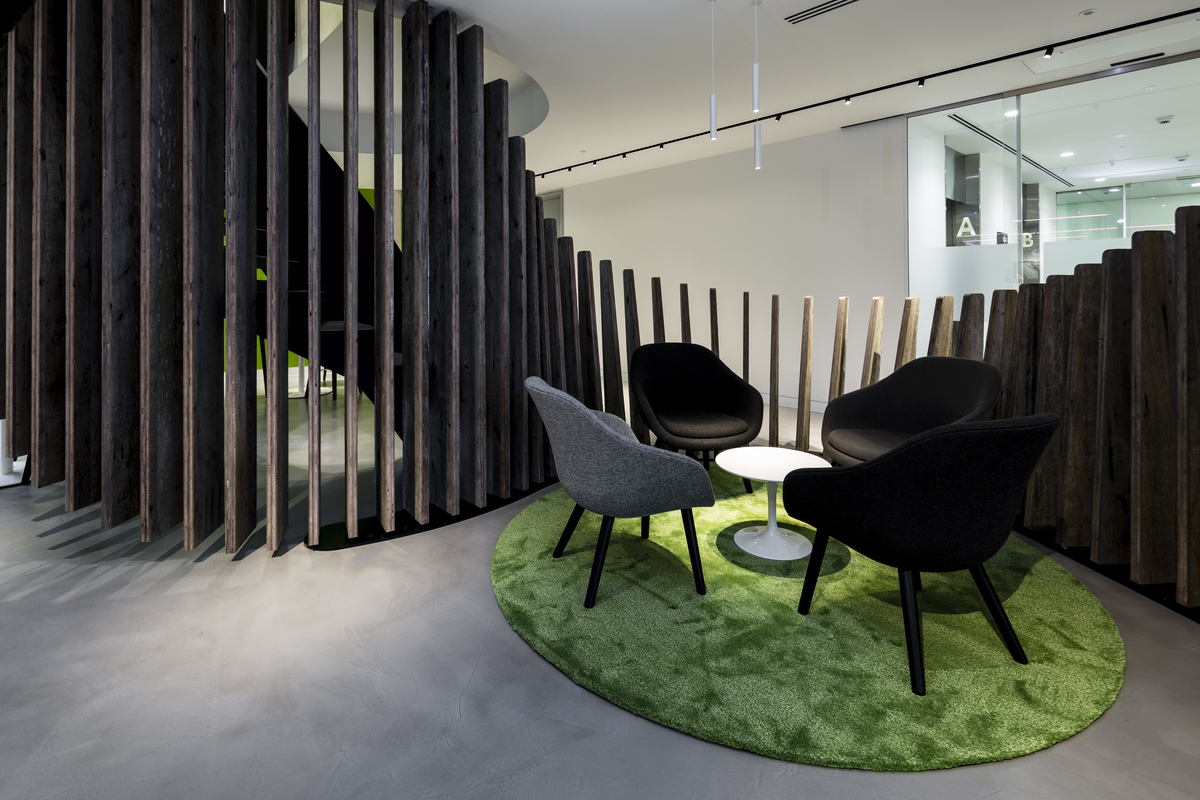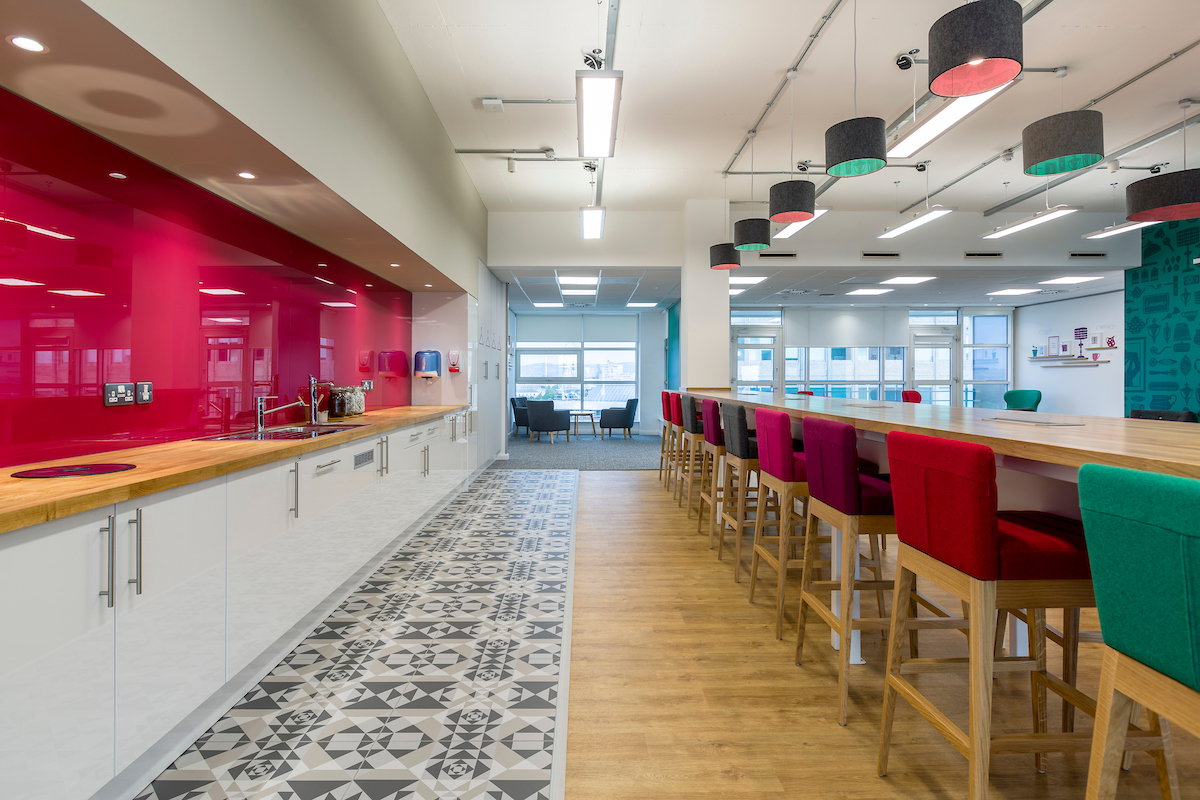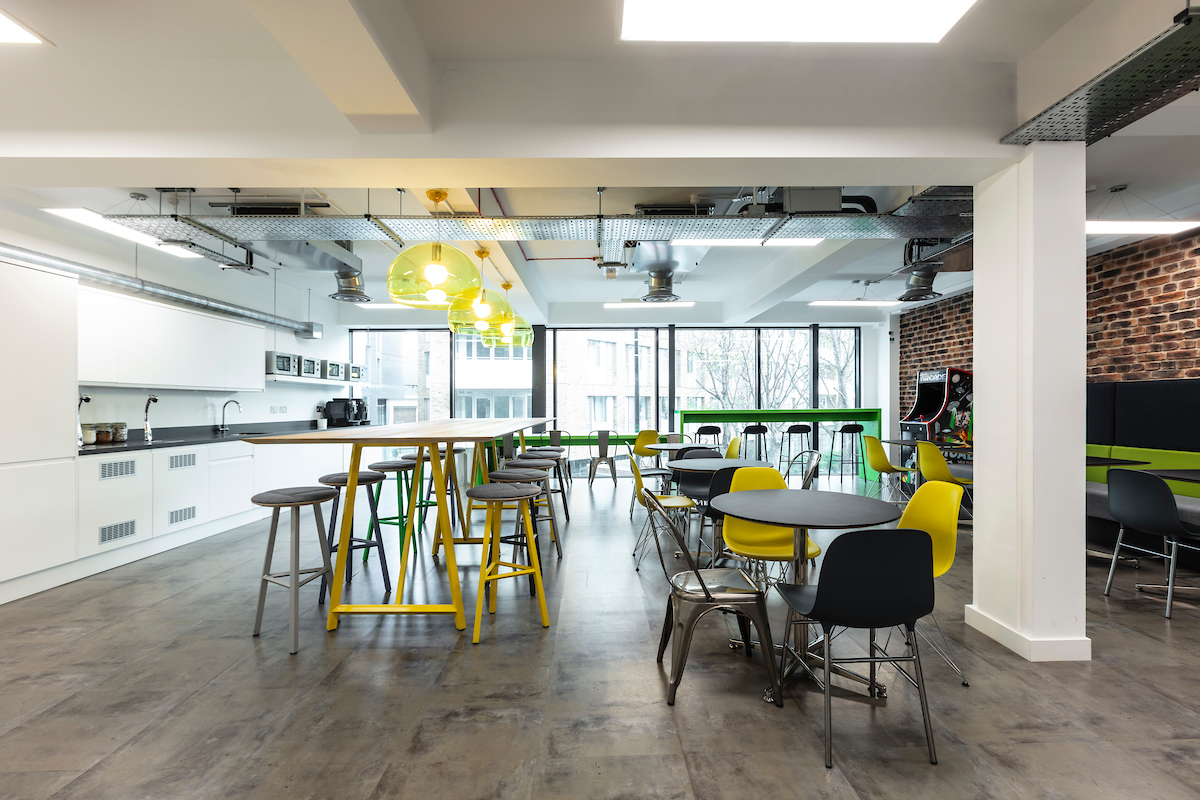 A great, thoughtfully designed 'cafe' space can be a fundamental part of an organisation's vision and brand, and it's often the area designers are permitted and expected to deliver their most creative thinking and design ideas on. And as we all know, great spaces support the attraction and retention of the best talent.
And so it begins, as a series of apparently innocent questions about coffee, questions that can also reflect the values of an organisation in a subtle but often highly significant way. What kind of coffee do we want? Will it reflect the ethos, brand and company aspirations? Do we go for sustainable ethically produced coffee or are we happy with a standard grade?
Where are we going to have it? What kind of machine? Where is it going to be located? Ready ground or beans? How many cups of coffee should we be encouraged to drink? Do you even have 2 or 3 different machines of varying quality across the workspace to promote mobility if coffee drinkers want the best coffee?
Answering these questions is an integral part of our design process. When we are tasked to create a tailor made environment for a client, the conversation about coffee is a critical part of the briefing stage.
There is a desire is to create environments that are not only conducive to socialisation - these spaces also facilitate and allow for greater collaboration, creativity and innovation. The 'cafe' space is an extension of the office space, but with greater flexibility, allowing for varied seating and standing postures with appropriate furniture solutions. The design choices will encourage employees to engage with the space and with each other in different ways, and from this engagement, ideas will flow. The space can become a social hub and the key enabler of interaction from different departments across a building. Equally, sometimes the client just wants a quiet contemplative space to break from 'work'. The design challenge is all of these things and more.
Often the subject of a staff 'rest / cafe / break-out' space comes along fairly quickly during the briefings, often with special requests. It can be the defining part of the brief, a key area that dictates how the rest of the floor space is laid out.
During a recent project, our team presented a drawing package, which included a large kitchen and coffee area. Due to the specific coffee machine requirements of the client, the drawings didn't explicitly show a coffee machine - it was simply itemised elsewhere. The first thing the client said, in a panicked voice, was 'Where's the coffee machine?'
Our lesson… never underestimate the need for coffee!
So if we liken the workplace to a cup of coffee, every design decision should enhance, inspire, spark and enable high performing workers in order to get the best out of every single bean.
"I marvel at these young people: drinking their coffee, they tell clear, plausible stories.

If they are asked what they did yesterday, they aren't embarrassed: they bring you up to date in a few words…"

- John Paul Sartre